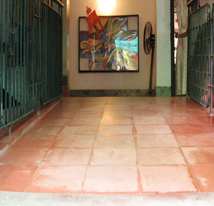 Our Building
AHEAD is now BARRIER – FREE for independence, convenience and safety of the children with disabilities.
The school started its endeavor in1979 with one room and one student. For the initial 25 years, we operated in a rented premises. After purchasing land from Calcutta Improvement Trust, Government of West Bengal, we have constructed our own 4-storied building (7500 sq.ft area in total).).This has helped us expand our activities and introduce good infrastructural facilities & good teaching practices.Each of our classrooms has furniture suitable for the type of disability our students belong to. We have appropriate basic infrastructure to provide education, therapy and training to our students.We have built the infrastructure to make buildings and facilities friendly for use by persons with disabilities.
AHEAD received the state award in 2012 for creating "Outstanding Barrier Free Environment" in the school premises
The school building also has fire- fighting equipments for the safety of our children.