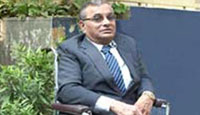 Our Founder
Our founder and Hony. President Dr. Asesh Kanta Banerjee Choudhury, born in 1942, being a polio-victim, uses a wheel-chair for movement since childhood. In recognition for his work, he has received many awards particularly Role Model Award both from the Hon'ble Governor of West Bengal and the Hon'ble President of India.

The hardship he faced in his life to pursue education gave him the boost and it was a dream throughout his life to open a special school where some children with different abilities will come and head towards a changed life.

With a vision that 'No Child is born to blush unseen' , the school started in a small rented room with one Autistic child and one Special Educator, and a dream. Under Dr Chaudhury's constant support and guidance in 30 years Ahead stands on her own 4-storied barrier-free school building. Dedicated and trained educators and staff is the asset of Team Ahead .
His achievements
Starting career as a trainee, rose to the rank of Dy. General Manager (Finance) in Garden Reach Shipbuilders & Engineers Ltd., Kolkata, a Ministry of Defence Undertaking. Retired after 34 years of service. As Chairman of the Recruitment Board, he was instrumental in employment of many disabled persons in GRSE Ltd.
Received Helen Keller Award from Mrs. Sonia Gandhi in 1999
Best Handicapped Employee award from Prof. V.V. Giri in 1974
National role Model Award 2008
His other passions
Dr Chaudhury is the author of many books of nursery rhymes with supporting music cassettes in Bengali, Hindi and tribal languages for the education of the disabled as well as the tribal children. Recently wrote a children's book for 'inclusive education' being a pioneer book in Bengali, English and Hindi languages on which an inter-active animated audio-visual CD is made as a joint project by two Govt. companies.
An Inspirational Film - "Flows Uneven"
His life-story has been made into a film "Flows Uneven – the World on Wheels"produced by Rotary Club of Calcutta Metropolitan and directed by Mr. Abhishek Ganguli, celebrating Dr. Banerjee'sinfinite spirit to share and care for all. This film is now uploaded on You Tube, showcasing Ahead, Autism and odds faced by PWD (persons with disabilities).
Link: http://youtu.be/-75DLtRgEes