Assessment and Early Intervention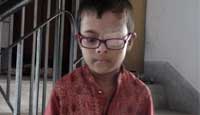 Early years of life is the best time to address needs. Genetic factors are predetermined and cannot be changed, but properly planned Early Intervention Program enhance the development of a disabled child to the maximum potential and provides a better chance to improve the child's physical and mental behaviour. For age group of 3-6 years in early intervention program –
• A child's physical, functional and cognitive & communication abilities are assessed.
• Guidelines are given to develop and increase abilities according to the need.
• Proper environmental setups are provided which brings changes in behavioural pattern
• A child acquires new skills, his/her potentials are realized and utilized to give him a better quality life
• Parents are provided counselling and training to best adjust with and help their wards in home environment as well as in society.