Physiotherapy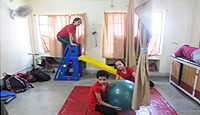 Many children admitted to the school have disability, delays or differences in many areas -- including gross and fine motor skills. Children may have low muscle tone, or have a tough time with coordination and sports. These issues can interfere with basic day-to-day functioning -- and they're almost certain to interfere with social and physical development. Physiotherapists help the children affected by these disorders through exercise, manual therapy, training and advice.
The physiotherapist examines the child and develop a plan of care for each child. A program involving therapeutic exercises and functional training is devised to improve the child's physical problems.At the core is the child's and the families' involvement in their own care, through education, awareness, empowerment and participation in their treatment.Parental counselling regarding child's condition and training of home programme are provided to each parent.PTs may use other techniques such as electrotherapy, ultrasound (high-frequency waves that produce heat), hot packs, and ice in addition to other treatments when appropriate.
Ahead has a well - equipped Physiotherapy unit under the supervision of an eminent Physiotherapist, practicing for last 30 years in her field. She is assisted by a dedicated team of workers.