Special Education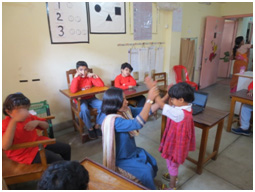 We provide education in a structured way, designed individually for students who have some special needs like challenges with learning, communication challenges, emotional and behavioral disorders, intellectual deficits and developmental disorders. We promote functional learning, which is enabling a person affected with autism or intellectual deficits or multiple disabilities, to meet up the daily challenges of life to achieve independent.
We maintain regular school for providing pre-primary, primary, and secondary and Open Basic education for those who can advance as well as vocational training, according to their interest and abilities, to help them achieve economic independence. Many of our students belong to economically poor section of the society and pay no charges or only nominal charges.
A team of efficient and dedicated special educators are engaged in Ahead. One-to-one sessions, group sessions, play, music, dance, art and craft classes are regularly incorporated in our structured educational curriculum.Our curriculum is recognised by Mass Education Department, Government of West Bengal.

We promote "Inclusive Education" and "Total Rehabilitation". Integrated programs with mainstream schools are organized, so that the special children may achieve their much desired individual self-esteem and ultimately grow into independent citizens. Many of our students have been able to attend mainstream schools, either partially or full-time.