Speech and Language Therapy(verbal and non-verbal communication training)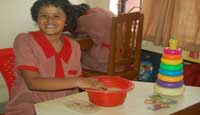 Speech-language pathology is concerned with evaluation and treatment of problems in human communication and its disorders. Speech-language pathologists assess and treat persons of all ages with speech, language, voice, and fluency disorders. They also may work with people who have oral motor problems that cause eating and swallowing difficulties. For individuals with little or no speech, speech-language pathologists select alternative communication systems, including automated devices and sign language, and teach their use.
A child failing to communicate in proper ways faces problems in everyday life and cannot interact with his/her environment, which results in frustration and non-fulfilment of the benefits of life. Our professional Speech and Language Therapist aided by our special educators helps a child, facing challenges in communication, in different ways and improves his quality of life. Autistic children who possess the potential to speak are highly benefited by this therapy as it stimulates urges to communicate and interact with the environment.