Sensory Integration Therapy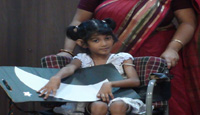 Sensory processing disorder is a condition in which the brain has trouble receiving and responding to information that comes in through the senses.
People with Sensory Integrative dysfunction experience problems with their sense of touch, smell, hearing, taste, sight, body coordination, and movement against gravity. Along with this, there might possibly be difficulties in movement, coordination and sensing where one's body.
This type of therapy is usually performed by an occupational therapist or physical therapist who takes children through a series of sensory and motor skill exercises. Some children need sensory integration therapy because they have a dysfunctional sensory integration system, where one or more of the senses overreact or under react to environmental stimuli.
The child is led through a series of exercises that help him or her respond accurately and appropriately to sensory data. Although traditional therapy exercises may be helpful for general motor skills re-training, any long-term treatment for sensory integration dysfunctions must include targeted, integrative cognitive skills assessment and training.
We have a sensory stimulation unit, where different kinds of tactile, vestibular and proprioceptive therapy equipment are utilized to help the students.